B2B SEO Strategy: A 6 Step Guide to Create Your Own
/

B2B SEO Overview

/

Four Pillars of B2B SEO

/

The Best SEO Tools

/

Step 1: Customer research

/

Step 2: Keyword research

/

Step 3: Optimise current pages

/

Step 4: Create new pages

/

Step 5: Build authority (link building)

/

Step 6: Stakeholder advocacy
For any company, Search Engine Optimisation (SEO) is an essential tactic for driving traffic to their website.
Helping new prospects to find them, to increase revenue, and accelerate the growth of the company.
And it's especially important for B2B companies.
To help explain why, in our B2B SEO Guide, we cover the following areas:
B2B SEO Overview
Four pillars of B2B SEO
6 steps to create your own B2B SEO strategy
Summary
With the aim of helping your company implement an effective SEO strategy that has you ranking high up the search results.
First up, an overview of B2B SEO and why it's important.
B2B SEO Overview
What is B2B SEO?
B2B SEO (Search Engine Optimisation) is a marketing tactic that involves moving your website up a search engine's ranking positions. Appearing in the results for keywords or phrases that your target buyer uses.
You don't directly pay the search engine provider (Google, Bing, Duck Duck Go) to be there – that's Pay Per Click (PPC).
In SEO, you naturally move up the rankings with certain techniques. That's why it is often referred to as organic or natural search.
B2B vs B2C SEO strategies
How different is SEO for B2B companies vs B2C or D2C?
First off, from the search engine's side, there is not a different B2B algorithm or a specific set of rules for B2B companies.
The main differences between B2B and B2C SEO come down to the customer and the way sales are made in B2B companies.
In B2C SEO, you target a much broader audience.
Whereas in B2B SEO, you are looking to target a smaller number of key decision-makers that work at companies that match your ICP (Ideal Customer Profile).
Because you're targeting a smaller number of key decision-makers, your content needs to be laser-focused.
And the majority of B2B purchases are made by a person on behalf of an organisation, which makes them high risk.
If the purchase turns out to be a dud, it could cost someone their job. Making the research stage of the purchase even more important in B2B.
And where do a lot of people carry out their research? On search engines like Google or Bing.
Is SEO important for B2Bs?
SEO is one of the most important marketing channels for B2B companies. Your target customers are using search engines to find solutions to their problems.
By producing search engine optimised content, you can appear high up the rankings, and get the attention of your target customers.
However, that being said, SEO is a large investment and results don't happen overnight.
So, depending on what stage your company is at, it might not be the best channel for you. If you need a quick influx of traffic, paid advertising may be the best route.
By the end of the article, you'll be able to weigh up the pros and cons of SEO and see if it's right for your company.
Four pillars of B2B SEO
A great B2B SEO strategy is built on the following 4 pillars.
Many guides and SEO experts will cover the first 3, but I feel number 4 is one of the most important parts of B2B search.
(1) On-page SEO: The main goal here is to put keywords in the right place on your website, and to ensure you have relevant content that is useful for potential customers.
(2) Off-page SEO: The main goal is to increase the total number of websites that talk about and link to you.
(3) Technical SEO: The main goal here is to ensure your site speed is fast and Google can crawl and index your pages quickly and easily.
(4) Stakeholder advocacy: The main goal here is to sell SEO internally to your organisation, ensuring they understand and see the value to help you secure your budget.
The reason why I'm such an advocate of number (4) is that without buy-in from your boss or the leadership team, SEO as a marketing tactic has no chance of flourishing in B2B organisations.
Next, we take these 4 pillars and help you create your own B2B SEO strategy in 6 steps.
The Best SEO Tools
If you're serious about SEO, you will need to pay for SEO tools to get the best results. Free tools can provide great value, but big returns require investment.
If I could pick only one tool? Ahrefs.
Hands down. It's my favourite all-in-one tool.
But, what other SEO tools would I recommend? Follow the link to learn about my 11 favourite SEO tools.
A varied list to help marketers solve 10 key SEO problems, including:
✅ Content ideas
✅ Content briefs
✅ Keyword research
✅ Building backlinks
✅ Competitor research
✅ Uncovering technical issues
✅ Tracking ranking positions by location
Now you are aware of the best tools, time to create your own SEO strategy…
Create Your Own B2B SEO Strategy in 6 Steps
Step 1: Customer research
This is one of (if not the) most important steps when it comes to any SEO strategy. Truly knowing who your target customer is and how they buy your product or service.
If you get this wrong, or if you are unsure, then your efforts won't be as effective.
We're all time-strapped and resource-short so being able to focus on your target customer with precision will help you get better results, faster.
By the end of this step, you want to have a clear idea of who your customer is and how they search online.
Speak to your current customers
First up, just speak to your current customers! By talking to them, you can get a first-person account of how they searched for and found you. Why they chose to go with you and what key steps they took during the purchase process.
The aim here is to find out their problems and how you can help solve them. A lot of the time, the problems you think they have are different once you dig a little deeper.
Want to take it one step further?
Speak to your dream customer. The one you haven't sold to yet but would love to work with. Seeing if their problems differ from your current customers.
Speak to other teams internally
If you work in a large organisation, your marketing, sales, and customer services teams may be spread out. Meaning there could be a disconnect between what you think your customers feel and what they actually feel.
Speak to your sales and customer service teams and find out what problems they are hearing customers talk about.
The aim is to gather as much intel as possible to feed into step (2) of our SEO strategy. The keyword research.
Understanding your customer's sales process
It's easy to lump your company under the banner of "B2B SEO". But when it comes down to it, there are major variations that impact how your product or service is sold. For example…
Are you a SaaS company selling a $19 a month LinkedIn metrics tool?
Or, are you selling on an enterprise level to major accounts?
Or, are you somewhere in the middle?
Depending on how you answer the question, the purchase process for your product will look very different.
Take a step back and analyse the sales process for your product or service.
By doing this, you can figure out how people are searching, that is unique to your industry and company, adapting and creating content that caters to this.
Exercise: Create buyer personas
After speaking to your customers, internally to other teams at your organisation, and having thought about the purchase process, you should have enough information to build out your buyer personas.
A buyer persona is a detailed description of your ideal customer.
Looking at who your customers are, their problems, their needs and wants, and how they consume content online.
One of the best tools for this is HubSpot's Make My Persona tool.
Use the tool to fill out your personas and this can be used to feed into your SEO strategy and also the keyword research.
As I mentioned at the start, one of the most important steps of any B2B SEO campaign is customer research. Ensuring you're going in the right direction and not wasting any of your efforts.
Next up, keyword research…
Step 2: Keyword research
After completing step (1), you'll know your target customer even better than before. And you can use this information to start doing keyword research.
Keyword research helps you uncover the words and phrases your target customers are using on search engines to solve their problems. 
You can read our full guide on B2B keyword research here.
It'll show you the monthly search volumes for these keywords and some tools will show you how difficult it is to rank for that keyword. We have an example from Ubersuggest below.
Not all keywords are created equally! Simplistically, keywords can be broken down into two types – corresponding to two stages of the funnel.
You have…
(a) Bottom of funnel keywords
(b) Top of funnel keywords
First up…
(a) Bottom of funnel keywords
Picture your sales funnel… Your buyer is well educated and they know exactly what they want to buy. So they head over to Google and search exactly for that product or service.
These are bottom-funnel keywords. Where the user would end up on your service or product pages.
Using our company as an example, this could be "B2B SEO agency" or "SEO agency London". Keywords where you're looking to buy a product or service.
(b) Top of funnel keywords
On the other end of the scale are top of funnel keywords. Your buyer isn't well educated and they don't know exactly what they want to buy.
But they have a whole host of problems related to their job.
So they head over to Google and search with various phrases. Anything to try and address their pain points.
These are top funnel keywords. Where the user would likely end up on your blog.
Using our company as an example, this could be:
"do B2B companies need SEO?",
"how to get more traffic to my website", or
"my webpage doesn't appear high in Google"
Keywords where you're looking to answer a question or find out more information.
Zero volume keywords
With B2B keyword research, an honourable mention goes out to zero volume keywords. And low volume keywords.
As it says on the tin, these are keywords that SEO tools report as having "zero volume".
However, the underlined part is important.
Just because SEO tools show these keywords as having zero monthly search volume, doesn't mean this topic actually has zero searches.
Imagine one of our agency's keywords. And think of how many different ways a customer can search for this on Google but still mean the same thing. Here's an example:
"seo agency london"
"london seo agency"
"london based seo agency"
"seo services in london"
And so on…
If your customers search in many different ways (but they each have the same intent – like above), rather than showing as 50 searches in the SEO tools, it wouldn't show at all – it would show as zero.
Here's an amazing video on this exact topic explaining zero volume keywords and why they shouldn't be underestimated:
Competitor research
One of my favourite parts of keyword research is seeing what our competition ranks for! It can be one of the quickest and easiest ways to find keywords related to your business.
Note: For top-funnel keywords, your SEO competitors (people competing in the SERPs for the keywords you want to rank for) can be very different to your product or service competitors. So it pays to look further afield when doing keyword research and not just focusing on your direct competitors.
Using either of the leading SEO tools for this (SEMrush or Ahrefs), you can put your competitor's domain in it'll return a long list of keywords related to your niche.
You don't have to stop at competitors' websites, you can put any domain related to your niche in.
What you will find, is some websites may not be your direct competitor, but they rank well for the keywords you want to rank for.
Or one website might rank well for bottom-funnel target keywords related to your niche, but not so well for top of funnel keywords. So be sure to research a wide variety of competing websites.
Exercise: Keyword gap
SEMrush (paid) has an amazing keyword gap tool that you can compare your domain against other websites to see what they rank for but you don't.
Enter in your domain and 4 other websites that rank well for the keywords you want to target. Filter by top 10 keywords, so you only see the pages that your competitors rank on the first page for:
And it'll return a list of keywords that your competitors rank for but you do not:
Rank tracking tools
If you're serious about your B2B SEO strategy, you'll need to use a keyword rank tracking tool to keep tabs on how well your keywords are performing.
You can track progress over time, see what works and what doesn't, and shout about your success to the powers that be.
Ahrefs and SEMrush come with keyword ranking trackers included in the cost. Or, you can use a specific tool for this purpose such as NightWatch.
A full caveat here, this is the tool we use and we love it because you can track by multiple countries, states and cities – even down to postal code (great for local SEO).
As well as seeing the full SERP for a keyword since you started tracking (shown above). Great for keeping tabs on the competition, tracking changes in positions, and diagnosing any drops.
Step 3: Optimise current pages
At the start of this guide, we spoke about the four pillars of B2B SEO:
On-site
Off-site
Technical
Stakeholder advocacy
Step (3), focuses on improving your on-site SEO.
Once you know what bottom-funnel keywords you want to target (service or product), you can then go about optimising those pages.
Note: on-page optimisation is a large part of SEO. In this next section, I give a top-level overview. To learn about this in detail, you can check out this detailed guide from Moz.
First up…
Where do I add my keywords?
After your keyword research is complete and you've mapped out your keywords to pages, one of the quickest wins is to optimise the current pages you have on your website.
You want to ensure elements on your page contain your target keyword. These include the:
Title tag
Meta description
URL
Heading on the page
These are your classic SEO 101 optimisations. Nearly every CMS now has a built-in editor that will let you easily update these elements for every page on your site.
Warning: if you change your URL to include a keyword, you need to add a redirect. Some CMSs will do this automatically but please check otherwise you will lose your ranking positions if you don't add a redirect when a URL changes. Learn more here.
After you have put your target keyword into your pages, you'll want to improve other elements on your page.
This will likely take longer as you need to redesign or add more content to your page, or create a brand new page.
We will cover this in the next step. But first audit your content…
Content Audit
If your site has been live for a while, pages will have been added over time, and a lot of low-quality pages can creep in.
Also, when you were mapping out your keywords to target pages, you may have noticed some competing pages – multiple pages that target the same keyword.
A content audit is an essential step of B2B SEO, to improve, remove or merge these pages.
Our aim here is to audit the whole website and see what pages can be removed. SearchEngineJournal has a great guide on this where they go into more detail.
Now you have optimised and cleaned up your current pages, it's time to create new pages.
Step 4: Create new pages
In this section, we're going to look at two different types of pages that every B2B company needs on their website:
(1) Bottom of funnel pages (think service or product pages)
(2) Top of funnel pages (think an ongoing blog, guides and resources)
Both content types are essential to the success of a B2B SEO strategy.
First up…
(1) Bottom funnel: Service/product pages
These pages help explain your offering, diving into what you sell.
They relate to the bottom funnel keywords we found in step (2). And they are integral to a B2B SEO campaign increasing traffic that often drives revenue.
Without an individual page set up for each of your products or services, Google won't be able to show a page to the searcher.
As a general rule of thumb, Google wants to show the most relevant page to a user. Which tends to be one that is written solely about that topic.
Without that, you will be missing out on all of the search volume identified in Step (2).
But, what content should your page have?
Structuring your bottom-funnel pages is tough. What content should they include? How long should they be?
It can help to enlist a B2B web design agency to ensure they follow UX best practices. But, if you don't, there are a couple of tactics you can follow to work this out…
(a) Top 10 search engine results:
The quickest and easiest way is to head over to Google, and in an incognito window type in your target keyword. Review the top 10 websites ranking here in a new tab and see:
What do they have in common?
Do they all have testimonials and you don't?
Do they all include pricing on the page?
What else can you see across the top 10 results?
This does two things:
(1) You can see what type of content Google favours and is ranking in the top 10.
(2) You will find out what your page is missing compared to the top 10.
One word of warning… don't blindly copy the top 10 results. But see what you like, and what you think can be improved, and then adjust your page accordingly.
There's a great (paid) tool called Surfer SEO that analyses the top 10 (and more) results for your target keyword. Helping you build out a page outline, giving you related keywords and headings to include, and other metrics such as the average word count of the top pages.
(b) Speak to your customers:
One of the best ways to create or update a page is to speak to your customers. Getting their feedback on your current web pages. Asking them what they think is missing.
It's often overlooked but this will allow you to get first-hand input from your customer on what they'd expect to see.
If you need to make changes to your website, we have a great B2B website design guide. We outline 11 tips for B2Bs and also list 5 of our favourite places to get design inspiration.
(2) Top funnel: Ongoing content creation
After you've created a page for all of your bottom-funnel, product-related keywords, it's time to create content for customers who are higher up the funnel. To attract customers that don't know about you yet.
Once you know exactly who your target customer is, this is one of the most important steps of a B2B SEO strategy.
Producing content regularly so you can rank for keywords related to your target customer's problems that you can help them solve.
It's highly likely that these searchers don't know about your company yet. But they are having problems which you know how to fix.
This is where ongoing content marketing can help.
Note: This content is not meant to be salesy. You're not ranking for these keywords to then pitch the customer your product. Yes, mention how you could help them in the content (if your product does that), but try to be impartial and give them all the options. Not just your solution.
Step 5: Build authority (link building)
In the previous step (4), I said producing ongoing content that helps address your customer's pain points is one of (if not the) most important step in B2B SEO.
The reason why I was hesitant to say "the most" is because a website's authority plays an important role too. Some may argue, the most important role.
Image credit: Moz
It's like the chicken and the egg. Without one or the other, you're not ranking well. You need good content and a high authority website to appear well in the search results.
Although, some may argue, that if you're producing the best content in the world, it will naturally get links and your authority will grow.
But either way…
Why is link building important?
In short, Google views links from another website to yours as a thumbs up.
A vote of confidence that if people are talking about your website and linking to it, you're doing something right and that page should appear higher in the results.
However, not all links are created equal. A link from the BBC is worth more than a small-time blog. The quality of the link matters – you need to get links from high-quality websites that also get links.
Image credit: Moz
And then on top of this, relevancy matters. If you work in tax and finance, a link from HMRC would be more valuable than the BBC.
Google treats links from other websites as a strong factor when ranking a website. Moz has a great beginner's guide to link building. Which covers in detail why links are important and how to build them.
Obviously, it's more nuanced than my explanation above.
But, in short…
Links are an important factor when ranking a website and they will continue to be so for quite a while longer.
Link building tactics for B2B companies
Visual learner? You can check out our YouTube video below on B2B link building.
I run through 4 tactics companies can use, even if you think you're in a "boring" industry:
One of the biggest mistakes B2B companies make with their SEO is creating content but not promoting and building links to it.
Yes, good content can naturally earn links. However, you can speed this up and give your content an extra push.
To do this, you can:
(a) Promote content to your network:
Being vocal on LinkedIn and other social media platforms can help new people find your content. Which in turn means when they write an article, they may link to it.
As well as this, emailing people in your industry and making them aware of your new content can help. This type of outreach has played a key part in building links for years.
Backlinko has a great guide on conducting effective outreach.
Email outreach takes time but it is a great way to build your network and build links in the process.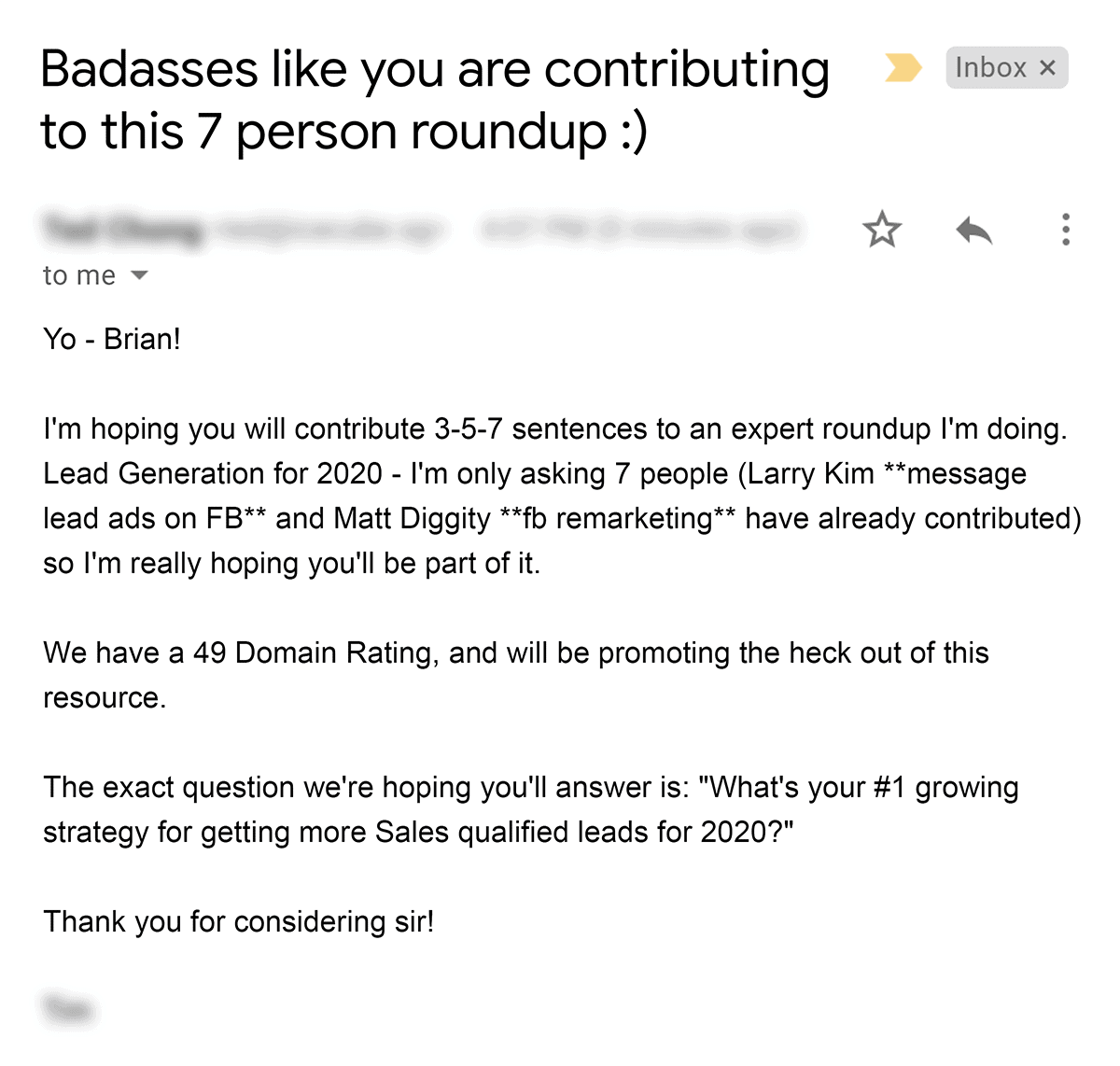 (b) Digital PR:
This type of link building is having a heyday at the moment. This is where a company produces unique content (usually research, data, or insights) that other companies don't have. You then pitch it to other publications in the industry that want this unique insight.
You want to aim for the most relevant publications to your industry and more importantly, your target customer. A link from an industry-specific website is better than a random news site.
When you break it down, Digital PR is what good content should do. Provide a unique angle which then provides value to other sites and they want to feature it to their audience.
(c) Utilise relationships:
One of the easiest way to gain links is to leverage existing relationships. Speak to your suppliers, customers, partners, or anybody you do business with.
Can they link from their website to you on a partner page?
Feature you as a case study?
You write on their blog about how you use their supplies?
Or, are you a member of a local chamber of commerce that lists its members?
The aim here is to speak to people you already know and see if you can get a link from their website for being their partner.
(d) Guest posts:
This is a great way to build links back to your website. You write a blog post that goes on an industry publication or website, and then within that guest post you link to a relevant page on your website.
This helps to signal to Google that you're active in your industry and that you have a good reputation. All of this helps to provide signals that will help your pages rank higher.
Word of warning: There are a lot of low-quality websites out there that will accept guest posts. So only aim for publications that you would read or your target customer reads. Or sites with strict publishing guidelines. Don't just fire off guest posts left, right and centre for a link.
(e) Internal education:
One of the most important steps for B2B companies is educating employees about the value of link building.
People on your team will be featured on podcasts or have guest posts being published, or your company will gain coverage for a new product launch.
But if your team doesn't know why adding a link in that article is important, they might not do it.
So spend some time teaching people within your team the value of links. You'll be surprised at how many people enjoy doing it.
In another blog post, we run through 14 B2B link building tactics your team can try. You don't need to do all of them. Just find the ones that work best for you and implement a repeatable process.
Step 6: Stakeholder advocacy
At the start, I highlighted four pillars of B2B SEO. We have now covered technical, on-page and off-page SEO. Now it's time for pillar four…
Stakeholder advocacy!
This is essential for not only getting buy-in and budget for SEO work, but for continuing SEO work over the years. SEO isn't a one and done job. It's ongoing, and the aim is to make incremental improvements.
And without buy-in, you won't get budget and this means no resources to allocate to SEO. We have a whole playbook dedicated to stakeholder buy-in, which you can find here.
To do this, you can focus on a few areas:
Educate key stakeholders
Align with the company's strategy
Push your stakeholder's buttons
Be honest: SEO is a big investment
Let's dive into each…
(1) Educate key stakeholders
SEO is complicated. It's fast-moving and there's lots of conflicting information out there. We've all had our own unique experiences in the past with search engine optimisation which dictates how we think about it now.
So step (1) should be to educate or re-educate stakeholders on what good SEO is. To do this, I would:
Research what they know now
Explain how SEO works in 2022
Explaining to them in a language they understand. Which you will have ascertained during the research phase.
In summary, education is key but it's not a one and done task. SEO is ever-changing and so are organisations, so continual education on the value of SEO needs to take place.
(2) Align with the company's strategy
At the best of times, SEO is complicated and nuanced. There tends to be a long list of optimisations or recommendations off the back of an audit.
The problem with this is, that a list of fixes doesn't make for a robust strategy. Especially one that other stakeholders can get behind
And it can be hard to wrap your head around how improving Core Web Vitals metrics or building links by itself will improve organic traffic and revenue.
To help, you need to align the SEO work with the direction the company is going in. Or, align it with the strategy of the marketing, product, or content teams.
This can be tough if you work in a smaller company where the strategy isn't written down. Or the direction changes often as the company grows.
And if your company hasn't invested in SEO before, you can keep an eye out and suggest a smaller project to try and show the value of SEO.
(3) Push your stakeholder's buttons
It's easy to assume that the goal of your company is to make more revenue. And that every team's aim is to maximise this.
It's true, no company or team would say no to more revenue. But, you need to dig deeper and find out what stakeholders want to see.
How can you push their buttons and ignite a fire in their belly to start SEO?
Try to look beyond revenue and find out what language other stakeholders speak. And then present your argument to them.
(4) Be honest: SEO is a big investment
Good SEO is a big investment. It's expensive, labour-intensive, and it takes time.
Tasks such as "improve your content" and "build links" sound easy. But when you dig deeper into the true amount of work involved to do both, it's eye-opening.
It requires:
A shift in mindset from within your organisation.
Resources available to dedicate to the project.
A certain amount of education and training.
This is not to put you or anyone else off SEO or say that SEO isn't worth it.
But, underneath the surface of top-level suggestions such as "improve your content" and "build links", there's a lot of work that needs to happen.
So you need to be honest with yourself, and all stakeholders involved. This is so you can secure an adequate budget and you can set expectations early on.
Good SEO doesn't happen overnight, it's a big investment. So all stakeholders in your company need to know that.
Summary
Stakeholder advocacy is not often thought about with SEO. But it's an integral part of getting your organisation to buy in to the work.
Every company has limited resources. And without the investment, organic traffic is unlikely to improve.
If you feel SEO isn't valued in your firm, or you're struggling to get a project off the ground, think… do I have buy-in? If not, you need to work on your stakeholder advocacy.
Summary
There we go, 6 steps you can take to implement a B2B SEO strategy within your company.
I'm not going to lie, SEO is not easy. It takes time, trial and error, and perseverance. Results don't happen overnight!
However…
When it does all click. You are regularly creating content, building links, and organic traffic is increasing.
The flywheel gains momentum and continues faster and faster. And SEO becomes easier. Albeit ever so slightly!
Good luck and if you have any questions about this article, please reach out to me on the social channels below. Or send me an email through our contact form.