10.5.2022
B2B, Web Design
B2B Web Design Guide: 11 Tips + 5 Places to Get Inspiration
/

Intro

/

Differences between B2C and B2B

/

Key features of a B2B website

/

Examples of great B2B web design

/

The B2B Web Design Process

/

Where to find B2B design inspiration

/

Summary
There's a lot that goes into designing a successful B2B website. Not only does your site have to be on-brand and look good, it has to be set up to convert prospects into leads and increase revenue for your business.
A well-designed site is a B2B company's best friend when it comes to accelerating growth. It can help your business out 24/7 – 365.
Educating your future customers at each stage of the funnel as well as building loyalty amongst your most ardent customer.
So, how can you achieve all of this?
In this guide, we look at:
B2B vs B2C websites
The key features of a B2B site
Examples of the best B2B sites
Where to find inspiration for your B2B website design
Differences between B2C and B2B website design
First off, there are many similarities between business-to-business (B2B) and business-to-consumer (B2C) websites…
They need to be on-brand, fast-loading, mobile-friendly and work across multiple devices, and have the right content that can be found and indexed by search engines.
So, what are the differences?
Because the majority of B2B purchases are made by a person on behalf of an organisation, this makes it high-risk. If the purchase turns out to be a dud, it could cost someone their job. Making the research stage of the purchase even more important in B2B.
And, often, the decision is made by a committee. So it needs to be signed off by multiple people – potentially at different levels of the organisation. Which makes the buying cycle much longer than B2C and a lot more complex.
Both of these play into how a B2B website is set up and what type of content needs to appear on the site.
All of which we'll dive into next…
*as a caveat, not all B2B and B2C purchases follow this logic. Some B2B purchases are low cost and low risk. Some B2C purchases are expensive and high-risk. Either way, research your target customer and build your site around them. More on that next…
Key features of a B2B website
In this section, we dive into the features every B2B website must have:
Designed for your ICP
Tell a story
Benefits as well as features
Social proof
Clear value proposition
Clear call-to-actions (CTAs)
Search Engine Optimisation (SEO)
Performance
Mobile-friendly (responsiveness)
Template design or bespoke
Content Management System (CMS)
1. Designed for your ICP
As mentioned before, the main goal of your B2B website is to gain more traffic, generate leads, and increase revenue.
But, you want to be attracting the right traffic and converting high-quality leads. Not just any old lead. This is where your Ideal Customer Profile (ICP) comes into play.
Your ICP is a document that outlines your dream client (company) – who would benefit most from using your product or service.
By having your ICP clearly documented, you can ensure your website is geared towards that target audience. You can speak to your customers before you start the website redesign process to find out what they expect when looking at websites in your industry.
You can also get feedback on your current website. Gathering insights from them on what they like and don't like.
All of this research can feed into the messaging, layout and design of your website.
2. Tell a story
When reading your website, your target customer needs to feel like the main character in the story. That you're there to help them on their journey – to solve their problems. Not to show off about you, your values, or your latest award.
Yes, awards and social proof are important (more on this shortly). But it's not the first thing the customer needs to read when they land on your homepage.
StoryBrand by Donald Miller is a great way to think about the story of your website. His framework goes like this:
A character has a problem (customer pain point)
And meets a guide (you)
Who gives them a plan (your process/solution)
And calls them to action ("get in touch" or a webinar/guide)
That ends in success (benefits/what will they gain?)
By following this, you position your customer front and centre as the main character. You understand their problem and you can help them solve it!
Don't make it all about you! And don't just list out your features…
3. Benefits as well as features
Following on from the storytelling point above. It's important for your B2B website to explain to your user the benefits of using your product or service, not just listing out the features.
Nobody is inspired by a big long list of features. Yes, they are essential to a prospect during the decision-making process, but they don't explain the positive impact buying from you will have.
4. Social proof
An essential part of any B2B website is social proof. If your prospect sees other people have bought from you, just like them, they will want to buy too.
Social proof helps build trust. As mentioned before, a B2B purchase is a risky one – someone could lose their job! So you need to reduce this anxiety and build trust.
Social proof comes in many forms and you need to speak to your ICP to find out what they expect to see on your website.
It could be a testimonial or a review from someone who works in their role at a similar size company. Client logos from big players in your industry that buy from you. Counters or tickers showing X number of people have bought from you in the last 7 days. Or case studies outlining how people have used your service to great success.
You're essentially using a 3rd party to sway potential customers into buying from you.
5. Value proposition
Every B2B website needs a clear value proposition. It's arguably one of the most important parts of your messaging. Highlighting the unique benefits a customer receives with you over your competitor.
Leave your buzzwords and internal company jargon at the door. They make us feel smart but they make our target customers feel stupid.
Instead, explain your offering in a clear, simple way that your prospect will understand. Better still, speak to your target customer and find out what language they use and weave this into the website.
6. Clear call-to-actions (CTAs)
Another essential part of a B2B website is the call-to-actions. A well-written and well-placed CTA can help increase your conversion rates.
But when reviewing B2B websites, we normally see two common mistakes. And they're different sides of the same coin. Either, too many call-to-actions. Or too few.
The issue with too many call-to-actions… the user doesn't know what to do. There are too many big shiny buttons to click on, promising them the world.
And with too few clear call-to-actions… the user also doesn't know what to do. They take no action and leave your website.
You want to be clear. What action do you want the user to take on your website? In this example below, it's not so clear, there's too many CTAs.
The action you want the user to take will vary per page. For example, on a blog post, your aim may be for them to download your latest whitepaper. But on your service page, you may want them to submit a contact form or click to call.
Knowing what action you want the user to take on each page will let you craft the perfect call-to-action.
7. Search Engine Optimisation (SEO)
A key part of any B2B marketing strategy is ranking well on Google for the problems your customers are searching for. To be able to do this, your need to have SEO baked into your website's design. You don't have to work with a B2B SEO agency to get great results, there's a lot you can do by yourself to begin with.
For example, in-depth keyword research should be undertaken to help influence the structure of the site and the types of pages you need to include.
As well, because content plays a big part on a B2B website, you need to have a blog or a resources section that is correctly categorised and can be easily crawled by Google.
Based on your keyword research, you want to group your pages together into hubs. You can read more about the hub and spoke approach here.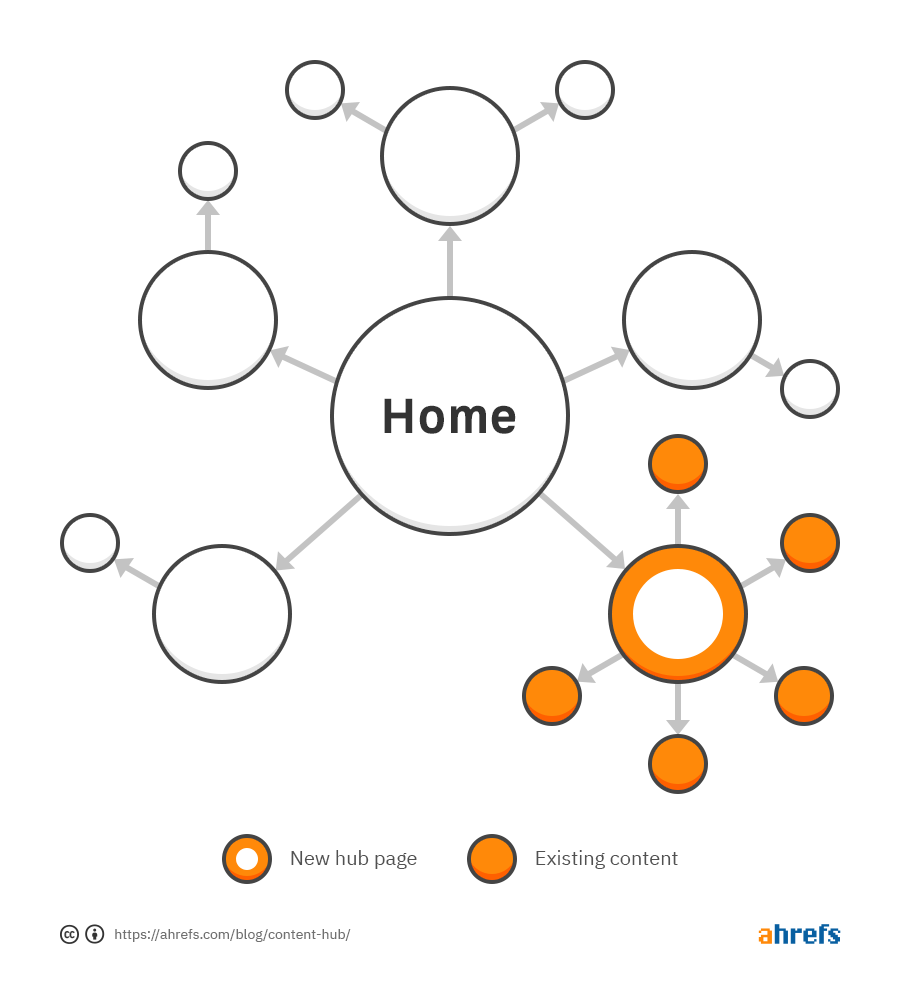 The aim is to create content based on the key pillars your company wants to rank for. For example, our pillars are SEO, web design, lead generation, and so on. And we create content (spokes) that come off of these hubs (like this article for example!)
Later on in this article, we look at a company called Ahrefs which has mastered this approach! You can read how to create your own B2B SEO strategy in our guide here.
8. Performance
A lot of performance issues are dictated by the design of your website. And it's been well known for many years that speed is everything.
Naturally, a page with lots of videos and images is going to load slower and be more resource heavy than a page without them. However, there needs to be a balance and developers need to work their magic to ensure everything loads quickly.
Users bounce away from slow websites, conversions are lower, and it just gives off a bad experience for your brand. Nobody wants to trudge through a slow website.
Things to consider during the design stage to keep your site quick to load are:
What CMS you choose to go for (more on this in point 11)
What media do you have on the page (videos, large images etc.)
Their file size and how they are compressed
How do you display/serve them (through a Content Delivery Network or host them elsewhere e.g. Vimeo)
A lot of factors come into play and all of them are key to keeping a B2B's website design performing to its best.
9. Mobile-friendly / Responsive
This goes without saying in 2022, but your website needs to work across all devices. Mobile, tablet, desktop and beyond.
Just because this is B2B doesn't mean your customers are sitting at their PC all day browsing your website. 60% of B2B buyers said that mobile devices played a significant role in a recent purchase. If your website is live, you can use this tool below from Google, or review your website on your own mobile device:
If your site hasn't been designed yet, one key step is that during the B2B website design process, you need to see mobile and tablet designs for your site. This will help you see how it will look on different devices, not just desktop.
You need to ensure all of your important content can be seen on mobile as well as desktop. Google indexes websites based on the mobile version. So, if you have content missing from your mobile view, Google can't see it either.
10. Template design or Bespoke?
Many start-ups will create their first website in-house using a platform such as Squarespace or Wix, or they'll use a template/page builder on WordPress.
And it's not until they outgrow this website that they will opt for a custom-designed and developed site just for their brand.
To begin with, if you're on a budget, using a template is fine. But once your company reaches a certain level of maturity, the best option is to have something custom designed. Tailored to your target customer's needs.
After all, every company and brand is unique so the website should reflect that.
11. Content Management System (CMS)
Not a design feature as such, but the Content Management System (CMS) your B2B website uses is essential to the results it generates.
As mentioned above, many will opt for Wix or Squarespace, to begin with. A DIY approach, where they can build the site themselves. And then opt for a custom-designed site on WordPress or another similar CMS, later down the line.
There are many factors that go into picking a CMS. Usually, it depends on your needs and budget. But one area to keep an eye out on in the future are headless CMSs. Why is it called headless?
Essentially, the "body" relates to where your content is stored. And then the "head" is where the content is displayed. With a traditional CMS, this was coupled together. The head is on top of the body.
But, with a headless CMS, these are not tied together – your "body" (where the content is stored) is headless. So you can put any or multiple "heads" on to it. And content is served over APIs to these heads. So you only have to store content in one place but it can be displayed in multiple places.
—
There we go! 11 tips to ensure your B2B website design is optimal.
Next, we look at some examples of the best B2B websites across multiple industries.
Examples of Great B2B Website Design
Now we've seen some of the key features that a B2B web design needs to have, let's dive into some real-world examples. Breaking down the best practices of some leading B2B websites.
Monday.com – User journeys and navigation
Monday.com guides the user through the site effortlessly, rather than trying to sell to them right off the bat.
The CTA is "get started" rather than "buy now" or "free demo" and by selecting the items from the list, your next step is then personalised around this.
And with some great microcopy about how you don't need a credit card, it reassures the user about clicking on the CTA.
Monday's navigation is perfectly set up to move different types of users through the site. For example, their use cases tab clearly outlines different teams or company sizes and how they'd use the product:
As well as this, the site clearly shows the 4 core products they have further down the homepage and also in the navigation. Once again, guiding users through the site to a desired outcome.
And when you click on each of these landing pages (use cases or product pages) you are then greeted with a tailored landing page.
Using the language that matches their ICP, as well as featuring relevant social proof and testimonials. They also internally link from one product to another, further down the product pages, to help guide the user through the site to the best product.
One of the best parts is the double-layered navigation, when you click on the product, you see a different menu. Which helps the user navigate that level of the site without getting distracted by the main menu. But if you scroll up, it shows both menus to facilitate moving around the site.
All in all, there is a lot to be learnt from monday.com
Ahrefs – A content powerhouse
Ahrefs is a leading SEO tool and therefore you'd hope they have a rock-solid content marketing strategy…
And they don't disappoint!
Ahrefs's blog is a well-structured, content powerhouse. When you click through from the main website to the blog, the menu structure changes to help with categorisation (remember the hub and spoke point above).
As well as making it easier for users to navigate different topics quickly and easily.
And once you click into a post, the Ahrefs blog posts are a masterclass in how to set up a page to ensure users can navigate it clearly, share the article, or subscribe to the newsletter.
And one final remark about Ahrefs, they don't overtly sell or push their tool to you. They teach users, they educate, and they let them know their tool can help them in their day to day life. But they don't just post content geared at selling to you.
Look to Ahrefs when you're setting up the blog on your own website!
Slack – Targets two different ICPs well
One thing you'll notice on the Slack site is how well the messaging changes depending on what page you're on. Mainly when looking at the Enterprise pages vs. the
For example, the chatbot copy changes depending on what page you're on. On the left we have the Enterprise page, and on the right Slack Connect.
As well as this, they have a great set of customer success stories. From a range of different business:
Toggl Track – Use cases & CTAs
Uses cases
Time tracking software, Toggl Track, has a great use cases section. Listing out multiple ways you can use their tool which can help a prospect feel like there's more added value.
It positions the user as the hero in the story (as mentioned in point 2 of our list) because it arms them with a range of information that they can take back to the decision-makers in their firm and make them look good "Hey guys, look what I found and how it's going to help us!"
Clicking into each of these use cases gives more information about this feature, the main heading. But not only that, it shows the benefits below it in the subheading. Showing how the user can leave behind messy spreadsheets and forgotten time cards.
They're speaking directly to their target customer here… We all hate timesheets! And we use Toggl at Spaced (this is not an ad) and it's actually a lifesaver, and this wording he reflects that.
Call-to-actions (CTAs)
A second mention for Toggl Track are their CTAs. For example, the one below is a great way to position two CTA side by side where one has more importance over the other.
The user reads the top CTA (sign up for free) and then because the secondary CTA is down and off to the right, you only see it after reading the first one. A slight nudge to sign up to free first and if you don't want to, a product demo is possible as well.
On another page, they have a different CTA which is another great example. Here, they combine social proof by having a testimonial (one addition they could have made was her job title), and then product ratings below this. Nudging you to sign up and to make you feel in safe hands.
The B2B Web Design Process
This tends to follow the same process as most website design projects, which usually goes like this:
Research
Design (UX and UI)
Development
Launch
And the best B2B website designs invest heavily in step 1 – research.
In-depth research will take the guesswork out of a website redesign. And if your website already gets a good level of traffic and contributes to your revenue, you'll want to take this seriously.
A bad redesign can cause traffic, conversions and revenue to fall off a cliff.
In point (1) in the Key Features section of this guide, we said your website must be designed for your ICP. This is how you achieve that.
But what kind of research do you want to do?
User research
Great UX (User Experience) can only be achieved with great user research.
This includes tasks such as screen recordings and heat maps, user surveys and user flows, stakeholder interviews, competitive testing, and persona creation.
You need to speak to your ICP and gain insights from them.
By doing all of this you can truly understand your website visitors. Find out what they like and don't like about your current website. And what they want to see from your new website.
All of this will then feed into the next stage which is designing the wireframes and prototypes.
Design (UX and UI)
There are a few key steps during the design stage that result in an effective B2B website design.
Wireframes:
Using the information uncovered during the user research stage, it's time to design wireframes based on this.
Wireframes are like the blueprint of a house. They show the layout, and most importantly, how website visitors will navigate through the site.
There are no brand elements in the wireframes (font, logos, colour scheme etc.) but only the structure.
This stage is essential because it will let you create pages that now solve the problems your visitors face, uncovered during the user research.
Prototypes:
During the design stage, most web designers will provide you with static web pages to review. But, to take this to the next level, you need to turn these into prototypes.
A prototype is a clickable demo which allows a person to navigate through the design like it were a live site.
You would give this demo to stakeholders and to your customers to gain more insights.
This brings us to our next point…
Usability testing:
This is an essential step if you want your B2B website design to solve your ICP's pain points.
You can take the design prototype and test it out with your customers.
By doing this, you can address any issues or mistakes they pick up on before the development stage begins.
So the upfront cost of carrying out the testing may seem like a lot, but it will save costs later down the line. Because the design will be right the first time, and not need any redevelopment work once it has launched.
That was a top-level overview of how a B2B website gets redesigned.
The aim, like any B2B marketing activity, is to truly understand your customer and then design based on these insights.
Where to Find B2B Web Design Inspiration
If you're looking to redesign your B2B website, you'll want some inspiration. And whilst looking at your competition is an okay first step, it's good to look further afield.
We've outlined 4 amazing sites, where you can get some inspiration for your redesign, from some of the world's best designers. Here, you'll be able to see what's on-trend as well, ensuring your website has the latest functionality and interactivity.
1. Awwwards
Awwwards is a showcase of websites that are voted on by a panel of hand-picked judges, as well as the users of the site, to highlight excellence on the world wide web.
You can browse the winners of 'site of the day' or the nominees which are just as excellent!
And there is a range of handy filters to narrow down your selection:
2. Dribbble
Dribbble is a large design community where you can check out a range of talent across multiple disciplines, not just website design.
However, for this post, if you sign up and click on this link here, you'll find a long list of web designs tagged as B2B.
3. SiteInspire
Siteinspire does what it says on the tin! It's a rather large collection of websites to give you some inspiration. You can filter by multiple options (style, types, subjects) and there's a search bar so you'll be able to find relevant sites in your niche.
4. Behance
Behance is another community of designers and one where nearly every designer houses their portfolio. So there's plenty to look through here and if you click this link, it'll take you directly to the B2B web design section. You can also search by your industry.
5. Industry awards
Not one site as such, but every industry or niche has awards. There are usually "Best B2B Website" categories or more specific ones for "Best SaaS Website" or "Best FinTech Website". Where you can review the nominees and winners to help give you some inspiration for your own website.
Summary
There we have it! Our 11 tips for a high-performing B2B website design, 5 places we go to look for inspiration, and a review of some great B2B websites.
With these, you'll be able to ensure your site is on-brand and looking good, as well as being set up to convert prospects into leads and increase revenue for your business.
If you have any questions, please reach out to me on the social channels below. Or send me an email through our contact form. And on this link, you can check out our B2B web design agency page.